Infection control > Waste
Good Quality Sharp Waste Disposable Containers
Any sharp waste used in beauty centres, clinics, parlours and salon should be disposed of in a specifically designated sharp waste containers for the safety and health of the society. Sharp material can puncture skin and contaminate bodily fluids. It is therefore recommended to all professionals to have a waste disposal container for such sharp instruments. Keeping this in mind we at Ashta Europe offer best quality sharp waste disposal that can be used by professionals to dispose of medical equipment such as needles and syringes, that could risk the exposure to bloodborne pathogens from sharp instrument related injuries. We are reputed suppliers offering an array of good quality waste disposable containers for disposing sharp clinical wastes used during beauty and cosmetic procedures.
We offer sharps disposal containers which are generally available in varying sizes. These products are high in demand among our clients for its quality and competitive pricing. Sourced from good reputed manufacturers, we ensure that the waste disposal container meets the industry standard quality requirements. By supplying these products, we aim to help reduce the risk of injury and infections from sharps. Made of rigid plastic in varying sizes we ensure all our clients requirements are met and as per their standard requirement. Check our page to get more information on these sharps disposable containers and order products as per your requirement. Purchasing products from us you can be rest assured of quality standards, safety and durability.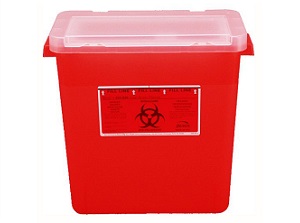 Art.nr: ICW02
Sharps Container 2L
Dispose all sharps properly to ensure your and public health and safety.
Size: 2 liter
Price:
6.00 €
(Excl. VAT)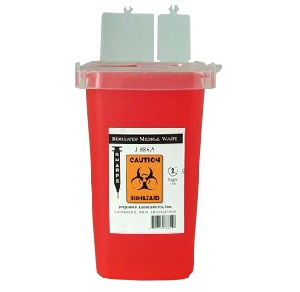 Art.nr: ICW01
Small Sharps Container 1L
Dispose all sharps properly to ensure your and public health and safety.
Size: 1 liter
Price:
4.00 €
(Excl. VAT)
BACK TO TOP