Other Accessories > Tattoo Soft Bandage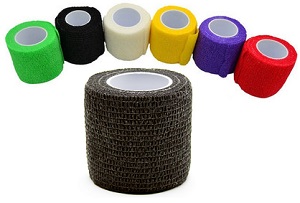 Art.nr: TAC16
Tattoo Soft Bandage
Cohesive wrap is a self-adhering wrap that sticks to itself. It does not contain any glue so it will not stick to the skin, hair or dressings. This self-adhering wrap is porous, lightweight and comfortable to wear. The foam bandage ideally used to apply light compression for any kind of small wound, after a tattoo procedure or after laser tattoo removal in all hot, cold, wet and dry conditions and will stay in place even in water.
It is even great for use to wrap tattoo grips for comfort.
This product is latex free
Each roll measures 5cm wide by 5m long when stretched.
Price:
2.50 €
(Excl. VAT)