Tattoo > Tattoo Machines > Rotary
Rotary tattoo machines for professional use
Professional tattoo artist prefered using a dual coil tattoo machines as traditional tested over the years method of tattoing. They were very skeptical of new machines that used new ways to run the needle. But this is the past. We moved to the new age of tattooing. Rotary tattoo machines come with several benefits as compared to the dual coil machines which has resulted in growing number of tattoo artist preferring rotary tattoo machines. It is said that rotary tattoo machines are comparatively much lighter than the dual coil machines as there is no electromagnetic copper-wound coils in it to weigh the machine down. This makes it easier for tattoo artist to work with these machines for longer hours especially in just a single sitting. This also minimizes finger and hand cramping, which often leads to artists making mistakes. For all its benefits and quality performance we at Ashta offer our customers rotary tattoo machines for their benefit.
The offered rotary tattoo machines can be used both as a liner or a shader, depending on your requirement and the type of needle bar you select. So, with these tattoo machines, artist can complete an entire tattoo session with a single machine, irrespective of having to do a complex design. Browse through our page to learn more what we have in stock today and maybe you will find something that suits your requirement.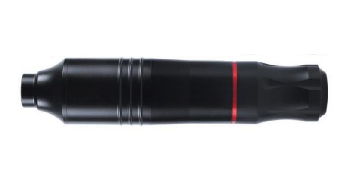 Art.nr: T-55
Rotary tattoo pen I
Rotary tattoo pen can use Hawk Cartridge needles.
Powerful motor can run machine at maximum strength which allows you to perform all kind of tattooing work.
Needle lendgth can be adjusted very easily. Grip deameter aprox 25 mm.
Can be used with:
Art.nr: TNCR
Cartridge needles HK
Price:
150.00 €
(Excl. VAT)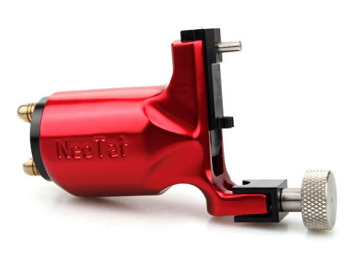 Art.nr: T-57
Rotary Tattoo Machine
Used for: Shader/Liner
Material : Alluminum
Weight 110 g
WORKING VOLTAGE: 0-8
This Machine is powerful, lightweight & noiseless.
Machine design provides a constant powerful swing spinning at 8,000 RPM and soundless environment to work in.
Used with RCA clip cord.
Price:
103.00 €
(Excl. VAT)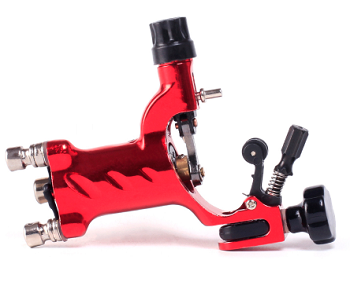 Art.nr: T-59
Rotary Tattoo machine
Used as a Shader or Liner.
- Adjustable suspension system
- Low noise, light weight
- Accepts standard grips, tubes, needles and power supplies
Input voltage: 0 - 12 volt DC (max. 12 volt DC)
Power connections: RCA
Rpm range Stitches / sec: 0 - 8 000 rpm / min 0 - 130 / sec
Stroke length: Standard stroke 3.7 mm, Short stroke 2.6 mm
Suspension stroke (give): 0 - 2 mm
Max. tube diam : Ø8 mm
Max. needle size: 50 magnum
Dimensions LxBxH: 90 x 21 x 75 mm
Weight: 80 gr
Price:
86.00 €
(Excl. VAT)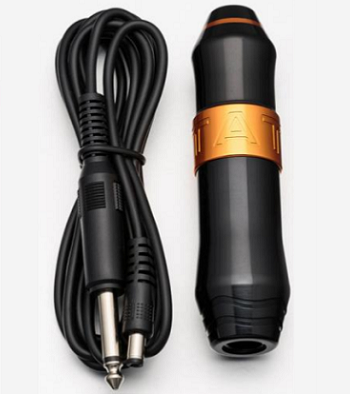 Art.nr: T-60
Rotary Tattoo Machine
Rotary tattoo pen can use Hawk Cartridge needles.
Powerful motor can run the machine at maximum strength, which means you can do all kinds of tattoo work.
The needle length can be adjusted very easily.
Grip the deameter about 25 mm.
Speed: max.10000
RPM Input: max. 12v
Stroke: 3.5MM
Motor: 4.5W powerful motor
Body: Aluminum
HP length: 120mm HP
Dia. Max. 28 HP
Weight: 130g
Needle: Cartridge Needles
Include: Hand piece, connect cord
Can be used with:
Article No: TNCR Cartridge needles HK
Price:
160.00 €
(Excl. VAT)
BACK TO TOP