Tattoo > Accessories > Transfer Supplies
A good inventory of transfer supply
Tattoo stencilling, is a major part of tattoo application, and having with you the right equipment makes the process easier and more precise. Ranging from quality tattoo trace and transfer paper to the best in stencil solutions, at Ashta Europe you will find all that you need for that perfect transfer. We offer tattoo honey, tattoo stencil transfer gel, dragon king stencil solution and image transfer paper to name a few. We also have stencilling equipment which includes a choice of light box for easy transfers, with LED backlights. We also supply equipment's like skin surfer pen designed specifically to draw on the skin and skin surfer pen holder designed for easy use and ruffled surface for better grip.
Ashta Europe stocks a good supply of petroleum jelly which is used by many tattoo artists during the outline work to help wipe away ink without using the soap that might otherwise take away the stencil. This petroleum jelly can also be used during the tattoo process to hold the ink together for easier tattooing. In a nut shell transfer supply is remarkably useful. Long lasting stencils that allow artists to do multiple sessions without replacing the stencil are safe to use on all skin types. Explore our wide collection of tattoo transfer supply and save big today. All of our products are listed at competitive prices, making them value for money products for tattoo artist.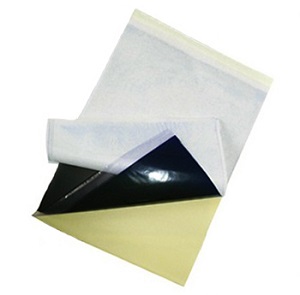 Art.nr: T-191
Image Transfer Paper
Thermal Image Transfer Paper consists of 4 layers:
1. Top white layer that your image will be transferred into.
2. Second Layer is thrown away.
3. Third Layer is the purple paper -Carbon. The purple coating transfers to the upper white sheet.
4. Last bottom yellow sheet holds the original image in place when using a Thermal copy machine.
If you want to do your stencil by hand, you can use this paper as well.
Standard Size:21,6cm x 27,9cm
Option
Price/pcs
Qty.
1 pcs
1 sheet
0.50
1 box (100 sheets)
44.50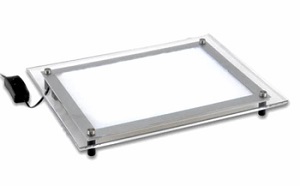 Art.nr: T-192
LED Light Box
Trace your designs when making stencils easier with the illuminated work surface. LED Box has light weight and takes minimum place at your studio.
Perfect for Travel.
LED bulbs are very durable and low energy consumable. LED light produces an overall uniform lighting and don't makes working surface warm.
Work surface size: A4 (21 x 28 cm)
Price:
110.00 €
(Excl. VAT)
Art.nr: T-193
Skin Surfer Pen
Made specifically for drawing directly onto the skin before tattooing. Use with Skin Surfer Pen Holder for more comfortable grip.
Available colors: Black, Red, Blue
1pc/bag
Option
Price/pcs
Qty.
1 pcs
Black
0.40
Purple
0.40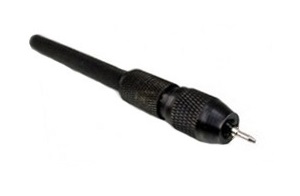 Art.nr: T-194
Skin Surfer Pen Holder
Pen Holder specially designed for easy use with Skin Surfer Pen. Rufled surface for better grip. Perfect size to hold it comfortably while drawing on the skin before tattooing.
Skin Surfer Pen is sold separately.
Length: 10,5cm
Diameter at widest point: 1,3cm
Color: Black
1pcs/bag
Price:
5.00 €
(Excl. VAT)
Art.nr: T-195
Pure Petroleum Jelly
Petroleum Jelly is used by many Tattoo Artists during the outline works to help to wipe away ink without using the soap that might take away the stencil. Can be used also during the tattoo process to hold the ink "together" for easier tattooing.
100ml
Price:
2.80 €
(Excl. VAT)
BACK TO TOP